'Surprise' visit gives a boost to the boycott of Le Meridien and Fisherman's Wharf Hyatt
Bernie Sanders showed up today to support the hotel workers boycotting the Le Meridien, and while it was supposed to be a surprise, by 4pm every activist in town had heard about it on social media and the rally was packed.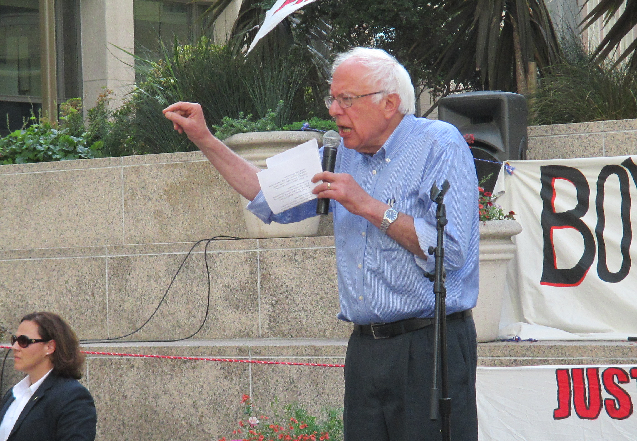 On the surface, it was a typical campaign event: The cops closed off the streets, we heard sirens, and at the perfect moment, two white limos showed up and, after the Secret Service made sure the coast was clear, Bernie emerged, walked up to the stage outside of 101 California, and made a rousing speech.
He talked about the importance of unions, about how workers with unions have better pay and working conditions. He called for a $15 an hour national minimum wage. He said that he stood with the Local 2 members in their struggle, and called on the "billion-dollar corporations" that own the hotels to sign a union contract.
With any luck, the news media coverage will focus on the boycott and not just on Bernie, because there's a real story here.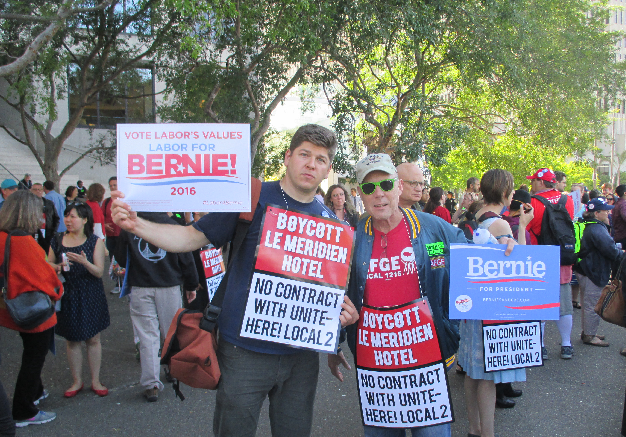 For years, the people who work at La Meridien (and at the Fisherman's Wharf Hyatt) have been trying to get a fair vote on a union contract. For years, management has resisted. The hotels have been on the boycott list and Local 2 has been trying to put pressure on them, but the giant company that owns both places has refused to back down.
Like an increasing number of hotels these days, La Meridien and the FW Hyatt are owned not by a hotel corporation, or anyone with a background in the business, but by a real-estate investment trust. These Wall Street operations see hotels not as places where people work or stay but as real-estate opportunities; in many cases, they are in for the short term and would just as soon flip the properties or turn them into something else.
(This, by the way, is one reason that the hotel industry has been late to, or missing from, the battle against Airbnb; the owners aren't hotel people, could care less if their business model fails, and just want the property, which might as well be condos or offices as far as they're concerned.)
But there are people who work at these hotels, and they are getting cuts in hours, loss of breaks, increased workloads – and a brutal anti-union campaign that the union says includes management threats and intimidation.
So the march today, which was more than 1,000 strong, was about forcing this outfit to the table, and the presence of a serious presidential candidate may help.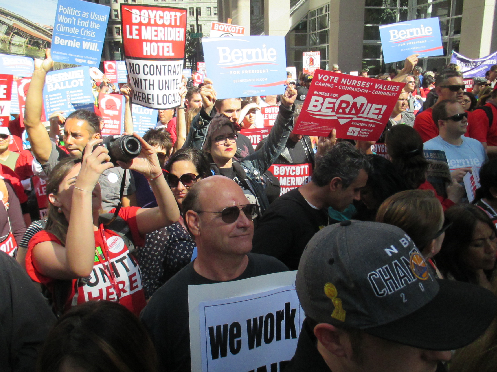 It was also a chance for the labor unions that support Sanders (the nurses, Local 2, CWA, and some others) to show up and make it clear that the message Bernie has put out is still part of the political debate, even after it appears that he won't be the nominee.
I don't see Hillary Clinton ever showing up at this kind of rally, and taking on a Wall Street company this way.
Sanders – again, as is typical in a presidential race – spoke for about seven minutes, then shook some hands and was escorted away.
I never got a chance to shout out a question.
When he started his speech, Sanders noted that he had only been in San Francisco for a few hours, but was stunned at the number of homeless people on the streets. He talked about the need for good jobs rebuilding the nation's infrastructure.
Here's what I would have asked:
Even a good union job in SF doesn't pay enough to afford the rent. There are homeless people in significant part because the federal government under Ronald Reagan stopped spending money on urban housing, and no president since 1980, of either party, has made any effort to bring that funding back.
How much would a Sanders Administration spend on fighting homelessness by building housing? What would he do to fund a huge increase in mental-health treatment programs? And why hasn't this been a part of the presidential debate?
And why am I the only reporter who seems to be asking this question?